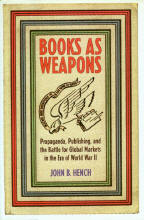 In only a few weeks following the D-Day invasion of France, a million tons of supplies was being sent to support Eisenhower in Europe. What many people do not realize is that in some of those crates and boxes were books.
Printed in English, Italian, French, German and Dutch, the books were meant for the countries about to liberated from the Nazis. Their content was slanted to emphasize that the U.S. and its soldiers were ... well, pretty nice folks. Representatives in Congress (both for and against funding the project) openly referred to the books as propaganda. Eventually, all of Europe would be flooded with the volumes.
For the winning side, of course, "propaganda" is referred to as "information." The Office of War Information (OWI), the group responsible for the project, was headquartered in Manhattan. The books were published by Viking, Harper & Brothers, Simon & Schuster, Little Brown, and several others. This was seen by the publishers as getting a foothold in European markets that had had their own publishing industries decimated. By charter, the OWI was only funded through the end of combat operations, but that sort of defeated the purpose, and almost immediately after its dissolution, the United States International Book Association took its place. While the fighting was still going on, the Council of Books in Wartime, the group that distributed the Armed Services Editions, allowed shipments alongside theirs.
But as the private sector became more supportive of the concept, things after VJ-Day (when the OWI disbanded) finally began moving, and unencumbered by military restrictions, things rapidly got into full swing. They saw a lot at stake. The majority of such books in Europe at this time had been sent by the British. But by flooding the freed countries with books that were both in English and their native languages, they felt confident that they could influence people to adopt English as a secondary language, thus creating untold business opportunities.
John B. Hench, vice president of Collections and Programs at the American Antiquarian Society, in his book Books as Weapons (Cornell University Press, Ithaca, 2010) lists 40 books, printed in five languages, both in Overseas Editions and their follow-on, the Transatlantic Editions. Many of the books had also been printed as Armed Services Editions.