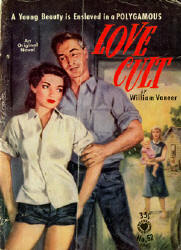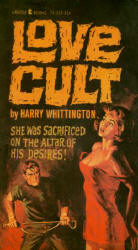 Love Cult is a novel by James W. Lampp, writing under the pseudonym William Vaneer. Lampp wrote under other pseudonyms, as well, including Amos Hatter, James Lumpp, Frederic Spencer and Ben West. All were for "sleaze" style novels written as paperback originals (PBO's) in digest format, published by Star Novels, Croydon, Venus, Cameo, Original Novels and Uni. A couple made it into mass market-sized Beacon Books, which was a Universal (Uni) label. The original book (top) was Croydon 52, published in 1953 as a PBO.
All of that is confusing enough. But then, along came the reprint in 1962, published by Lancer Books as Lancer 71-315, and listing the author as Harry Whittington. Whittington was one of those rare authors who was both immensely popular when his work was published and immensely popular to today's collectors now that the books are out of print. He wrote paperback originals under a long list of pseudonyms, including Ashley Carter, Robert Hart Davis, Tabor Evans, Whit Harrison, Kel Holland, Hank Mossig, Harriet Kathryn Myers, Hittier Nre, Joe Palmer, Steve Phillips, Shep Shepard, Suzanne Stephens, Blaine Stevens, Clay Stuart, Hondo Wells, Harry White, Hallam Whitney and Henri Whittier. He wrote more than 200 novels -- thrillers, mysteries, westerns, romances and sleaze books, as well as stories for pulp magazines. His screen credits includes the TV series "Lawman." He has been called "The King of the Pulps."
All of these multiple pseudonyms may have contributed to this error, although to my knowledge, this was the only "Harry Whittington" novel published by Lancer. However, Whittington DID write many digest sleaze PBO's published by the same houses that Lampp used. Due to this book, the name "Harry Whittington" was assigned to Lampp as a pseudonym by Pat Hawk in Hawk's Authors' Pseudonyms, along with the odd annotation: "NAME IMPROPERLY ASSIGNED BY PUBLISHER."
To add to the furor, if you search the internet, you will find literary blogs which insist that this really is a Whittington book, citing style, wording, and Whittington's trademark plot twists.
I have to agree with the experts, though. The Lancer reprint was probably just a big mistake on the publisher's part.