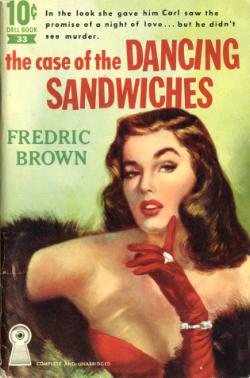 The Case of the Dancing Sandwiches
Why is this book so valuable?
By far, the priciest of all the Dell 10¢ series, Fredric Brown published this short paperback original in 1951. It was first reprinted by Dennis McMillan, Volcano, Hawaii (1985), a hardcover book in dust jacket, with an introduction by Lawrence Block (each copy is signed by Block). The average price is around the same as the paperback: about $150 to $300. It has also been reprinted as part of a short story anthology, Carnival of Crime: The Best Mystery Stories of Fredric Brown, Southern Illinois University Press, 1985, which ALSO routinely sells for more than $100.
In other words, the book is valuable, because it is RARE! It's a hardboiled mystery/thriller that crams tough detectives, con men, beautiful molls, hapless victims and innocent damsels into 64 pages, and it does it in true pulp fashion. And the surprise ending (which obviously has to do with the odd title) makes it a really good story. There are a lot of Fredric Brown fans out there ... but they can't get their hands on a copy.
And so, collectors are faced with a REAL problem. People buy the book to READ! Dell 10¢ books are extremely fragile. As a result, copies in good condition are getting more and more difficult to find. I read my copy, using painstaking care. But ... it's not quite in the same condition as before.
HOWEVER ...
I have since discovered that the novelette HAS been printed at least twice in magazines, once before the Dell 10¢ book was printed, and once afterwards. If you're interested in obtaining it to READ, you may find it much more cost effective trying to find one of the pulps somewhere.
It was first printed in 1950 (the year before the Dell book) in Mystery Book Magazine as part of the Summer 1950 issue (it sports a Rudolph Belarski cover). It was also published later, in the Spring 1955 issue of Triple Detective. Both of these magazines are "Thrilling Publications," meaning they were part of the corporation that also published Popular Library paperbacks. I find it interesting that Brown sold the paperback rights to Dell and the magazine rights to Popular.
I purchased both magazines in fair-to-good condition for less than $20 apiece.
The B&W illustration is from the Mystery Book Magazine.